Spanish Guitar Chicago

MUSICIANS| ABOUTI BOOKINGI TESTIMONIALS| CLIENTS| CLASSES| CONTACTI LINKS
---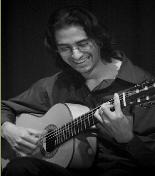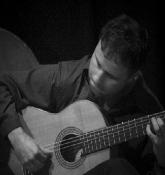 If you enjoy Spanish Guitar, the Gipsy Kings, Rodrigo y Gabriela, or Flamenco Guitar and Dance, you will love our featured musicians:
Las Guitarras de España and Spanish Guitar Chicago present: "Spanish Guitar Duo" featuring Diego Alonso and Carlo Basile
Our Spanish Guitar Duo performs authentic Spanish Guitar music including traditional and contemporary flamenco, classical, and Latin Jazz for corporate events, educational programs, wedding ceremonies, cocktail hour, dinner hour, and other private functions. If you are looking for a larger ensemble, our Duo can also perform with flamenco dancers, singers, and/or percussionists.
Carlo Basile has a Master's Degree in Spanish Classical Guitar and has traveled to over 25 countries to compose, study, teach and perform music. He also regularly travels to Spain for additional work and study. Diego Alonso has studied flamenco guitar intensively in Jerez de la Frontera and Sevilla, Spain. He also continues to study and perform flamenco, Latin jazz, and Spanish classical guitar works. Both Carlo and Diego are featured respectively on Las Guitarras de España's album, "Un Respiro por El Mundo" and on Idilio's album, "idilio."
Request Quote!
---

---
Diego Alonso
Flamenco, Latin-Jazz, Classical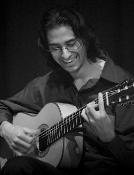 Click Below to Listen:
Granaína .mp3
Diego-Alonso studied flamenco in Sevilla, Spain at the Fundación Cristina Heeren under Pedro Sierra, Niño de Pura, Javi Gomez, Tino Van Der Sman, Pedro Barragán, Pepa Sanchez, Eduardo Rebollar, and Paco Cortés… read more…
---
Carlo Basile
Flamenco, Classical, Latin-Jazz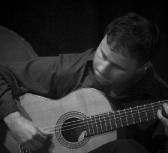 Click Below to Listen:
Choros .mp3
Carlo Basile, guitarist, has a Master's Degree in Classical Guitar performance and pedagogy from Northeastern Illinois University. Carlo studied Classical guitar with Anne Waller at Northwestern University for 7 years… read more…
---
David Chiriboga
Flamenco, Classical, Latin-Jazz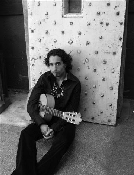 Click Below to Listen:
Romance .mp3
While being raised in Chicago, David Chiriboga's origins come from Ecuador. David has been playing the guitar since his early teenage years. While playing many styles early on, it wasn't until he found flamenco that he really… read more…
---
Lorn Allison
Classical, Brazilian, Flamenco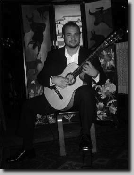 Click Below to Listen:
Untitled .mp3
Holding a Bachelor of Arts in Classical Guitar Performance from Western Illinois University I started performing solo in 1992, playing Spanish, Brazilian, Classical and Original solo works regularly in Chicago area, in such places as Café Ba-Ba-Reeba, Meson Sabika, Garfield Conservatory, Windsor Lounge at the Palmer House Hilton,Tapas Gitana, Taste of Chicago, Emilio's Tapas.
---
Colin Bunn
Latin-Jazz, Classical

Click Below to Listen:
Sunburst .mp3
Colin Bunn's guitar sound comes from all over the world. He began his guitar studies at age 14 in Madrid, Spain and continued to add new dimensions to his style while living and studying in Mexico, Chile, and Cambodia… read more…
---
Additional guitarists include…
Agustín Alvarez (Latin-jazz)
Luciano Antonio (Jazz, Latin-Jazz)
James Baur (Classical)
Andrés Castillo (Latin-Jazz)
José "Panzekito" Cortés (FLamenco, Latin-Jazz)
Steve Edwards (Rumba Flamenca, and Latin)
Dan Effland (Jazz, Latin-Jazz)
Hector Fernandez (Latin, Jazz, Flamenco)
Paulinho Garcia (Jazz, Latin-Jazz)
Julie Goldberg (Classical)
Fareed Haque (Jazz and Classical)
Goran Ivanovic (Jazz)
Tom Kimbal (Latin, Jazz, Flamenco)
Pam Kimmel (Classical)
Sam Macy (Jazz, Latin-Jazz)
Marty Metzger (Jazz, Latin-Jazz)
Alfonso Ponticelli (Gypsy Jazz, Jazz)
Steve Ramsdell (Jazz, Latin-Jazz)
David Saenger (Classical and Jazz)
Request a Quote!
MUSICIANS| ABOUTI BOOKINGI TESTIMONIALS| CLIENTS| CLASSES| CONTACTI LINKS